Gilsama Solutions
Gilsama Solutions is a Mexican company with more than 42 years of experience.
We are leaders in rental, selling, and international consultancy services for infrared, digital, and RF interpretation systems, tour guide equipment, parliamentary microphones, wired and wireless digital microphones, voting systems, and portable sound. We also have an expert team of engineers, technicians, multilingual floor officers, certified translators, and interpreters accredited by several international organizations.
We provide world-leading brands such as Sennheiser, Auditel, Bosch, Williams Sound, Mi Pro, Meridia, and others. But beyond our expertise and equipment, we take pride in delivering high-end solutions to the entire satisfaction of our customers. Our commitment to quality, service, and 24x7 personal support, is what makes us different.
The integrity of our customer's communication is our priority.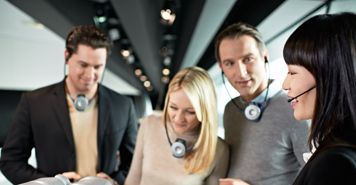 Mission:
To offer our customers the best available equipment with a customized support, and an efficient and friendly service based on experience, innovation and a passion for excellence.
Vision:
To help our customers around the world to communicate their messages clearly and efficiently by means of state-of-the-art environment-friendly technologies, and highly qualified personnel.
The most solid experience and trajectory in the market
Our Team
Every member in our team has an experience of more than 10 years in the field. With multiple certifications in Mexico and abroad, continuous training, and planning, logistics and execution activities for hundreds of events, we are able to provide you a knowledgeable and professional service for every project you undertake.
No matter what application you need to deliver your message, we make it go all the way through to your receiver. From a portable system for a guided tour with or without simultaneous interpretation to a multilingual event in multiple rooms, our state-of-the-art technology and dedicated staff will support you from beginning to end.
We can support you with special applications, such as audioguides (to bring a museum or an entire city to life), parliamentary microphones (with WAV recording for every microphone and the whole session), or interactive voting to know the audience response.